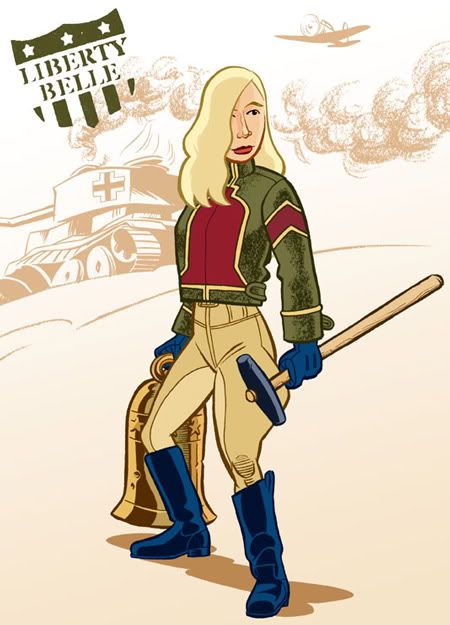 Character: Liberty Belle
Publisher: DC Comics
Artist: Joel Priddy
Reviewer: Vito Delsante
Libby, as she was known to other members of the All-Star Squadron, was never really one of my favorites. I think she was even the Chairman of the Squadron when I was reading it (around Crisis on Infinite Earths). She was best fleshed out in The Golden Age, by James Robinson and the great Paul Smith. Let's take a look at what Joel did…
First, lets tart with the head…while she isn't wearing a mask (as she did in the comics) Joel touched on something that is key to the character (as well as key to just about any Golden Age-themed heroine) and that is the Veronica Lake archetype. Libby, Black Canary, Red Masque…all have their roots, pardon the pun, with the original blonde bombshell. It's the hair, the way it sweeps down over the eye. It's quite possibly something that is easily overlooked, and I commend Joel for catching that.
The Eisenhower jacket is a perfect accessory/costume element as well. Shortly after the War, women were wearing these left and right and while the fashion trend is about 10 years to early (in the sense of character continuity) it fits perfectly. Her pants and her boots are pretty much standard issue, but I think another great add here is the bell and hammer. Can anyone tell me what Libby's powers are? No one? Don't Wiki it…when the Liberty Bell is rung in Philadelphia, she gets a rush of adrenaline. Also, she has some level of sonic powers, but I think that was retconned in after they took Black Canary out of the Squadron and put her into the JSA (and she went to Limbo, fought Raganarok…blah blah blah). But, in her original origin, she was given a replica of the Liberty Bell by a guy named, no kidding, Paul Revere. Joel has taken that and gone a step further and possibly even given her a weapon.
It's a safe assumption that Jesse Quick (Libby's daughter) will be taking up her mother's mantle in the new JSA series. It'd be a great treat to see her in this costume. We can dream, can't we?