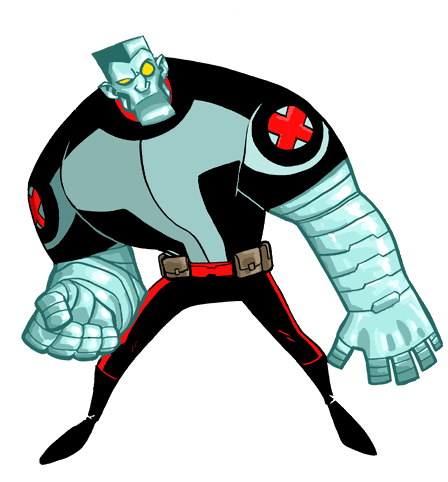 Character: Colossus
Publisher: Marvel Comics
Artist: PJ Holden
Reviewer: Chris Arrant
Created by writer Len Wein and illustrator Dave Cockrum, Colossus first appeared in Giant Size X-men #1 in 1975. A product of 70's culture by way of Russia, his current costume has remained tied to the era with little variation over time. PJ Holden's design here shows a more sleek and practical design that is less circus performer and more professional superhero heavyweight.
"I just wanted to put Colossus inside something that wouldn't have looked out of place in Soviet-era Russia," said Holden. "Those crazy communists really knew how to design stuff."
I like that PJ kept a subtle reference to the T-shaped original costume in the shirt of this design, but didn't feel tied down to the costume to much to try to extrapolate a better version of that costume. The black, red and blue elements really work with Colossus' *ahem* skin tone. Saving the yellow only for his eyes was a good touch. The general flat coloring on the outfit really offsets the visual of his armored skin, and makes that armored skin all the more unique.
At first I was thrown off by the redesign of the armor plating on Colossus' forearms, but on second thought it really works and seems more practical. His upper body torso is so ginormous compared to his lower half, and it really works in a cartoony-style such as this. One thing I would say is; how is he supposed to get things in his belt pouches if his fingers are bigger than the pouches?