We had quite a blast going through all the entries for our first attempt at a real-fabric costume contest. We received a ton of great entries, and had a hard time picking our favorites. I don't know what it is about real-world superheroes that's so enjoyable. They seem to simultaneously point out the undeniable silliness of superhero costumes, and yet demonstrate that they're not so unbelievable that we can't suspend our disbelief for just a moment that we might be in the presence of the mythical heroes we love so much. Thanks so much to all the folks who sent in entries. Let's do this again next year!
Grand Prize – Chase Green as Nightcrawler!

We really liked Chase's decision to take Nightcrawler in a street-clothes direction, and the length of the coat works well as a nod to his X2 portrayal by Alan Cumming. The sleeveless arms also work in keeping his blue-skin and physical capabilities visually apparent. I'd like to think he swiped the coat from Gambit's old locker on his way out of the mansion for a nice, re-centering, solo mission. For his prize-winning dedication (I mean, that's a lot of blue paint), Chase wins this original artwork of his design, created by our own Dean Trippe!

First Runner Up – Jared Axelrod as Green Lantern.

We were all stunned with Jared's incredible custom GL costume, so much so that we've decided to send him an original art prize by Dean as well. Great job, Jared!
2nd Runner Up – John Hefner & Rachel Oleinick as The Joker & Harley Quinn.

John and Rachel's class-meets-punk designs were really fun, and certainly made a few story ideas spring to mind. Great job!
The Best of the Rest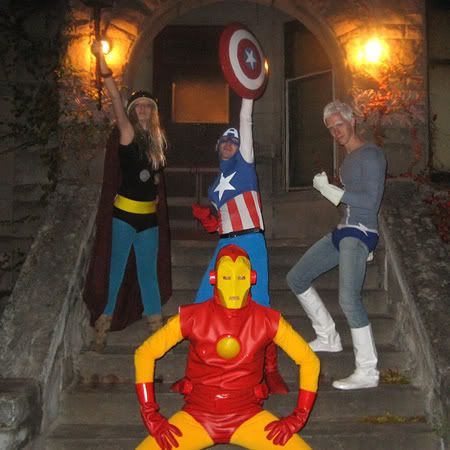 This awesome team entry features Jen Barnason as Thor, Justin McDowell as Captain America, Christr Vogt as Quicksilver, and Marcus Tegtmeier as Iron Man. Not so much a redesign as a tribute, but a seriously fun entry nonetheless!

Greg Davidson's Superman is a little more experimental than Luke Stephens' versions of both The Joker and Two-Face, but we got a kick out of all of three.

We received quite a few Green Lanterns, since their uniforms have already been established as infinitely modifiable within the comics. Here are two more we liked, by "Magnus" and Cam Shouji.