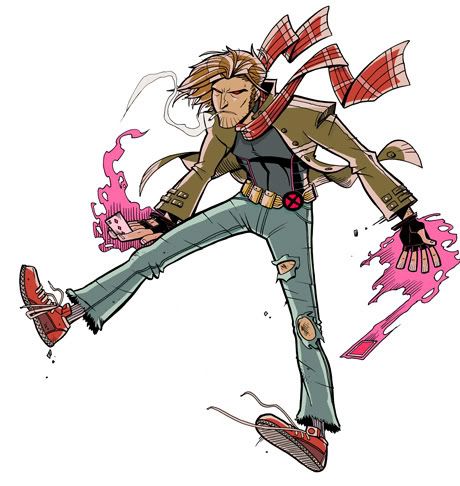 Character: Gambit
Publisher: Marvel Comics
Artist: Chad Thomas
Reviewer: Chris Arrant
A rough-around-the-edges hero if there ever was one, in some ways Gambit could be described as a neo-Shōjo character in the Marvel universe. Is he a master thief? A street hustler? A Cajun canoodler? He's all three. Click here for a larger version of Chad's  take on Gambit.
Since his debut in 1990 at the hands of Chris Claremont and Jim Lee, his costume has varied over time and through various artists – the only consistencies being a trench-coat, a purple/black superhero costume, and a set of kneepads. In this more street-level design submitted by Chad Thomas, Remy LeBeau is still the Gambit we all know by heart – but without the cliché superhero costume required on anyone with a super power it seems.
In this design, Gambit seems like he just walked off the streets – torn jeans, tennis shoes, and a half-length jacket covering up a superhero under-suit. When it's worn for practical reasons instead of visual reasons, you can better understand some honest qualities of it that might be useful –- for warmth, protection, or the occasional clothes-burning explosion. The utility belt, while seeming cliché, actually serves a useful purpose for Gambit; to hold his playing cards and even his smokes.
The character of Remy LeBeau, aka Gambit, has never been one that would seem up for playing dress-up. He does what he feels is right, without trying to be a classic superhero like Captain America or Spider-man. Chad Thomas does a great job of recognizing the core personality of Gambit and finding a set of duds that he'd honestly be comfortable in.