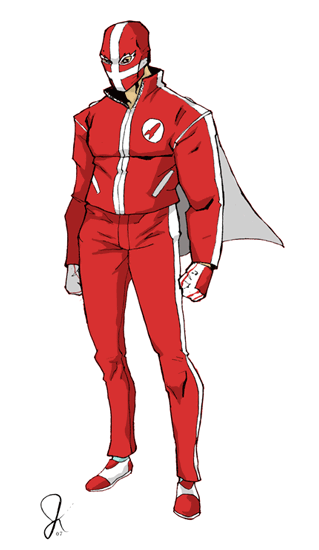 Character: The Human Fly
Publisher: Marvel Comics
Artist: J.S. Kociuba
Reviewer: Vito Delsante
The 1970's were an awesome time for comics. There were so many madcap characters created…more than you could shake a stick at. Case in point: The Human Fly.
The Human Fly was part of the 70's stuntman craze. Marvel had a couple of these guys (the other being the Stunt-Master, one of my favorite characters ever). There was actually a real guy who was the Human Fly, outside of the Marvel U., stuntman Rick Rojatt. If you can grab a copy of 2Morrows' Back Issue #20, there's an excellent article on him. Written by Bill Mantlo and drawn by great under-rated artists like Frank Robbins and Don Perlin, the comic was based on the real life daredevil that wore a costume. The byline for the comic was genius: "The Wildest Super-Hero Ever—Because He's Real!"
Okay, after that brief history lesson, let's take a look at this redesign by J.S. Kociuba.
There's a simplicity here that, while modern, doesn't quite do the character justice. I like the jacket…a lot. The incorporation of the rocket logo on the jacket is a great touch. I think the cape could be taken off and bring us closer to a sharper look. The shoes, while not the typical super hero boots, could look a little more like sneakers instead of slippers…the reality is, a motorcycle stuntman might actually want to wear combat boots or motorcycle boots.
I also like the mask (he kept the original, which is smart because you want recognition) and the gloves, which have a cool motorcycle look. The pants are a little plain, but I do like that they are pants and not tights. I think it needs a little more flair, but overall, it's good to see a modern take on this fun, but somewhat overlooked character.