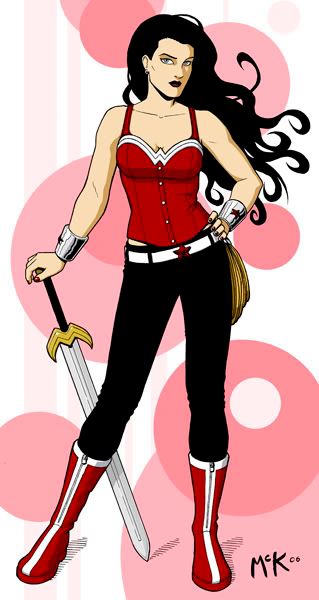 Characters: Wonder Woman
Publishers: DC Comics
Artist: Jamie McKelvie
Reviewer: Chris Arrant
In this modern redesign of DC's Wonder Woman, Jamie McKelvie has taken the core conepts of the character and brought them into more formal wear while maintaining an iconic look. You could even factor the recent events of Infinite Crisis #5 into shared thinking on this subject, as the Earth 2 Wonder Woman talks to our continuity's Wonder Woman with the advisement to be ""the one thing you haven't been for a very long time… human." As a representative from her race and culture, you could easily imagine her adopting the looks of Earth as opposed to war-like adornments that serve no practical purpose due to her magical nature.
"I always felt that [Wonder Woman's] costume and accessories were a real mish-mash with no overall unity, which is something I've tried to bring to this design," McKelvie stated in his submission. "I also felt that it was highly impractical – one wrong punch of jump and her boobs would come flying out of her costume." By eschewing the strapless armored top we're familiar with for a more bodice-like top, it both is more practical for physical altercations and even for casual events. As the commentators on fashion programs sometimes say, this outfit is ready for work or play.