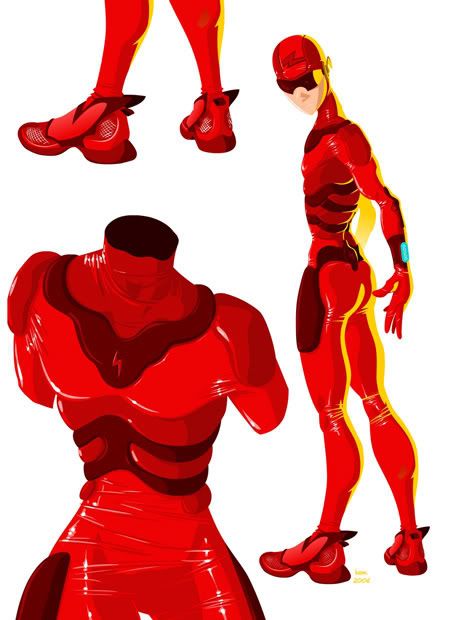 Character: The Flash / Bart Allen
Publisher: DC Comics
Artist: Bannister
Reviewer: Dean Trippe
We actually received this submission a while back, and I've held it back with conflicted feelings. Now that the mantle of the Flash has been taken over by Bart Allen, this design has suddenly clicked in my head. So I'm going to review it under that premise. Click here to check out the incredible detail Bannister put intoi this piece.
First of all, the functionality here is astounding. Bannister has managed to simplify the Scarlet Speedster's colors and iconography from the Flashes of the past and gone in a bolder direction, though I think on the same path that Wally West established after taking over for Barry Allen. Wally retained Barry's major elements, but his uniform's material always looked more advanced, more aerodynamic and resistant to friction. Barry's lightning belt design was also modified to look more dynamic. It has a futuristic feel, which works with Bart's origin. I mean, if you were suddenly living several centuries ago, wouldn't you try to find outfits that were more like the modern attire you were used to?
Bannister's design moves even further in that direction, creating a Flash suit that looks more like a uniform for a bicyclist or an Olympic sprinter than a guy in tights. The visor-style eye-covering is reminiscent of the goggles Bart wore in his earlier Impulse and Kid Flash costumes, and the wrist-display just makes sense for someone who needs to stay in touch with team members, up-to-date info, or heck, what chronological era he's currently time-traveling through. More than anything, I'd like to mention how incredibly cool the shoes are. This is the first Flash-footwear I've seen that really look designed to move!
Anyway, it's pretty dang bold, but all good fashion pushes the borders of what is acceptable in a positive direction. Thanks, Bannister!
Also, we'd like to thank Ain't It Cool News and Newsarama for their recent articles on our Fights, Flights, & Tights contest!