Following Draw Supergirl and Supergirl Week, artist Sophie Campbell started a similar endeavor to explore new costuming ideas for Power Girl, Supergirl's alternate Earth counterpart. We were impressed by the strong showing at Draw Power Girl, and chose our favorites to review.
Introduction by Joel Priddy.
I remember the first time I saw Power Girl. It was the first issue of All-Star Comics I'd seen as a kid, and, on the front page, they had the roster of everyone who was appearing in the issue. Running down the side of the page were all of the heroes' chest emblems: the S-shield, the bat, the green lantern… and then, incongruously, a blond woman's head. Turning the page, I quickly learned why her chest emblem wasn't shown: it would have been a pink oval of cleavage.
Created in 1976 as an alternate-universe version of Supergirl, Kara Zor-L was intended as an update on a character trapped in a Fifties sensibility: too prim, too polite, and too dependent on her cousin's legacy. This Kara had a stronger sense of her own identity, and demanded that the world accept her on her own merits. She was a feminist—but a feminist in a book inked by that talented satyr, Wally Wood. Wood, the story goes, decided to draw Power Girl's breasts a little larger every issue until someone told him to stop. By the time editorial noticed, Power Girl, was, well, extremely healthy in her proportions.
And this is the cake-and-eat-it-too dilemma of Power Girl. She is simultaneously intended to be a figure of female empowerment, and a pin-up dressed for display, thanks to what geekdom has come to refer to as the Magic Cleavage Window.
The costume is problematic. Firstly, because it is so blatantly objectifying that it contradicts (and overshadows) her personality. Secondly, it's impractical; can you imagine what happens when she flies and all that high-velocity air whooshes down that hole? Instant leotard-parachute. But, here's the thing: people have tried to change the costume in the past. And the results simply haven't looked like Power Girl. The very thing that makes the costume so terribly wrong also makes it distinctive, and it's been around long enough that that distinctiveness has gained iconic value.
Is there any way to navigate these contradictions? Can a designer remain true to Kara Zor-L's character and her visual identity? Power Girl may be the perfect Project: Rooftop challenge.
Sophie Campbell
, Rochester, NY
Vito Delsante: Know what I like about this one? The fact that you can tell it's Sophie. Sophie' art and ability came through in his Supergirl entry, and definitely does here. I think that's so important…to know that this is a specific artist and her work and not a cookie cutter version of a character. As for Sophie's design, I think that as a tandem with her Supergirl (both of them, really) you get a nouveau super hero sexiness. I almost want to see her entire Justice League or her entire Teen Titans roster…What would her Wonder Woman look like? Black Canary? The list goes on. Again, I defer to Sophie's abilities because she can see something in women and in drawing women that is sexy and also updated. This is a great design.
Dean Trippe: Sophie's PG is ten times tougher and more interesting than anything done with her since Amanda Connor's stint on JSA: Classified. The Power Girl apologists often try to boil the argument about Power Girl's depiction down to folks who think she should have big boobs and folks who don't. I don't have a problem with Power Girl having large breasts. I have a problem with the fact that her stories are always about that, and that her anatomy is often drawn ludicrously. Sophie might seriously be the only artist I know that can draw a Power Girl with boobs this large without it being pandering fan service. Her PG is nobody's plaything. Her attitude and demeanor are a total 180 from the popular portrayals of the character.
Joel Priddy: As big a fan as I am of Sophie's depictions of superheroines (have you started that Supergirl GN, yet, Sophie? Would you? Pretty please?) I'm not crazy about this costume design. The "P" medallion looks a cartoony and lacks the iconic punch of, say, the Kryptonian S-Shield. The asymmetrical slung-shoulder top is a look I've never been a fan of. And it seems especially unwise for a character as, um, endowed as PG. As mentioned, giant breasts and the super-powery muscles and tendons needed to support them are part and parcel of PG ever since Wally Wood decided to turn DC's attempt at a strong, independent Supergirl into a boob joke. Sophie keeps them and the distinctive Magic Boob Window, which are legitimate choices. That said, this costume is top-heavy, with it's short cape and shorty-shorts adding even more emphasis to her chest. And there's something weird going on with the two metal discs on her belt-line. They are nipple-sized, nipple-distanced, and even have blue lines connecting them to where her real nipples would be. It's like they slid down her torso and came to rest at her pelvis. But, given that so many comics creators have treated PG as though her personality was "has big breasts," spreading the mammary-fetishism around to other parts of her body just may count as character development.
Jessica Plummer: I've got to agree with Joel as far as the top of this costume goes. There's no support here for those breasts, either from the slung-shoulder of the costume or that tiny waist. Definitely experiencing some sympathy cringes over here. And though I love her attitude, something about this look seems perhaps a little too young for Peej, who is a good handful of years older than her Earth-1 counterpart.
Chris Arrant: The look that is telegraphing across the face of Sophie's Power Girl really sets this a part from any previous iterations of the character. Far from the vapid character that she's sometimes portrayed as, the stocky and well-endowed woman we see here looks built for a fight while still retaining her femininity.
Joel Carroll, Orlando, FL

Vito Delsante: I absolutely love it! If I were running DC, I'd update to this today. The emphasis here is not on her breasts, but on her arms…her "power." It's so damn simple the change Joel made…it's criminal how easily it looks to say, "Give her a sleeveless costume and you get your 'skin' factor." I'm also interested in the fact that the both of these designs (Sophie's and Joel's) use the piping on the costume. I wonder why that seems to be consistent in two stellar designs. My favorite of the lot.
Dean Trippe: You know, Joel's one of the guys that can just crank out rocking variant costumes. He's got an eye for simplification and always manages to maintain strong character identity. This revamp is so simple and perfect, it makes you think it's her actual costume, despite making some drastic changes. Joel's swapped out Power Girl's long sleeves for pants, ditched the belt, and changed the boots to thigh-highs. An perhaps most appropriately, he's managed to close PG's infamous Boob Window. Excellent choices across the board.
Joel Priddy: Seeing Joel Carroll's design is what kept me from even trying to contribute to this meme. I simply had nothing to add in the face of this great redesign. Before seeing his PG, I would have sworn that you could not have an iconic PG without the peek-a-boo window. But Joel extends a trend started by the great Amanda Conner, who added construction-lines to PG's costume. Other artist's have taken these lines up, and they have, apparently, become such an identifiable part of the Power Girl look that we don't even need the ridiculous cleavage-hole any more. I like the gloves, the haircut, the bare arms, and the darkened/desaturated blue. I think the thigh-high boots are way to tall, however. And I go back and forth on the cape. This is PG's classic cape, which has a definite panache, but there's a part of me that is always distracted by that cord going through the armpit. That just can't be comfortable.
Chris Arrant: The tall gloves and boots really work with Joel's version here, and going back to the classic PG cape is a good idea with the more streamlined body costume. One thing I would add is some color to the suit itself.
Jessica Plummer: Functional, striking, and elegant. I love this costume, even if I do wonder how it would translate to a Power Girl drawn with her regular cup size. I'm not wild about the seam running between her legs like that – it looks a little chafe-y – but those boots are inexpressibly fabulous.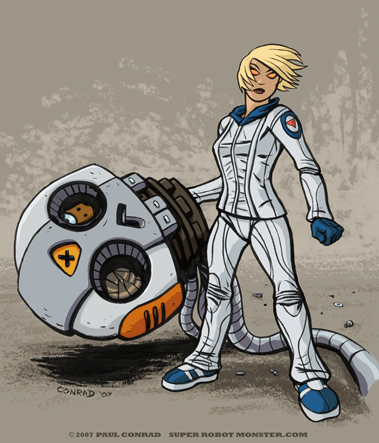 Paul Conrad, Nashville, TN

Vito Delsante: It is so out of left field, that I can't help but dig it! Sure, as a design, it has nothing reminiscient of Karen besides short blonde hair. And maybe it is a little too demure. But honestly, the robot in hand, the white color scheme…it's totally Power Girl!
Dean Trippe: Yeah, other than the color scheme, it's pretty off the map, but it's way more in line with what I think I'd wear if I was a super-powered crime fighter. Sweet shoes and a hoodie? Totally awesome.
Chris Arrant: It brings about a totally different personality. If I wasn't in a PowerGirl review list, I'd think it was Kara Thrace from BSG as a superhero.
Dean Trippe: That's funny, since so many folks have made that comparison already. I wonder if Paul had that in mind at all?
Joel Priddy: Every time I look at this, I see an astronaut in a spacesuit, holding a giant helmet. I think this is because the elbows and knees look like flexible joints connecting some stiffer material. Am I correct in recalling that Power Girl was older than Kal or Supergirl when she arrived on Earth-2? In which case, a costume based on Kryptonian space-wear (rather than, what, re-sewn baby blankets?) could be an interesting direction to explore.
Jessica Plummer: Maybe this is her space-faring costume? You know, for the latest jaunt to Thanagar?
Dean Trippe: Ha!
Jessica Plummer: Batman's got different costumes for different functions – why not Power Girl?
Please check out these other great Power Girls by LiveJournalers superleezard, thisisstar, deconcentrate, d0wn-on-paper, wootsauce, envertigo, tyrranticus, and inkboy.