Once a year, here at Project: Rooftop, we put down our sketchbooks and break out the fabric swatches for our annual Halloween costume contest, Fights, Flights, & Tights! This year, we received some really fantastic submissions. To decide on the winners, each of our six judges rated the entries on a 1 to 10 scale, and then we added up the total points for each entry. The voting was incredibly close, but in the end, we had our winners. And here they are!
GRAND PRIZE WINNER!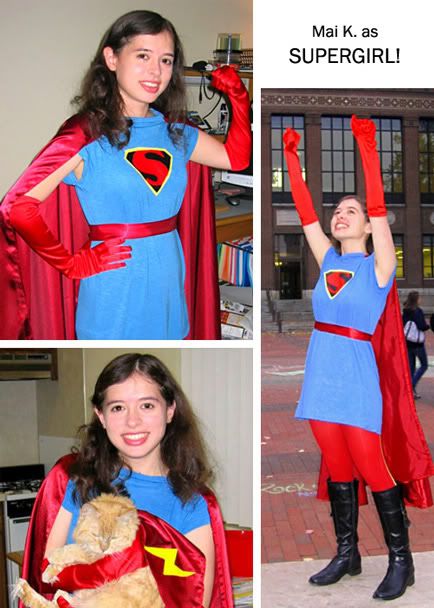 Grand Prize: For her winning design, Mai will receive and original drawing
of her Supergirl design by Dean Trippe!
Dean's Rating: 9
I don't even know what to say here besides, "AWESOME." Mai's costume is so fun and fresh and youthful and great! There's a lot of cool retro/modern juxtaposition going on here, which always makes me think futuristic. The high-waisted dress and Golden-Age Supersymbol are perfect. The yellow-striped red tights are fashionable AND practical for a flighing character. And the tough black boots remind you Supergirl will put you on the mat if you take a swing at the public. I'm also cool with the brown hair as opposed to the Supergirl-classic blonde…anybody else think this would work as a Super-daughter? This is the Supergirl that Lois Lane raised. And of course, there's nothing quite as cute as a Supercat sidekick. Even an indifferent one.
Vito's Rating: 9
I have to agree with Dean and give her a 9. That's straight out of Supergirl Week, and the indifferent Streaky is perfect. She looks like she had a lot of fun putting this costume together. I don't even mind the black boots since it matches the "S" shield. I also like that she didn't feel that she had to follow convention and wear a blonde wig. She is totally Mai as Supergirl, and that's what this is all about.
Jessica's Rating: 9
It's charmingly Golden Age, with the black accents and the yellow stripe on the tights. I'd love to see Supergirl in this right now in the comics. I was going to go with 8, but Streaky there brings it up a whole 'nother point.
Rachel's Rating: 9
I don't like the stripes on the tights – I think they clutter up an otherwise visually super-sleek costume. It's so simple and cohesive, and I love how simultaneously stylish and practical the ensemble looks. I am a sucker for costumes that blend comfort and style, which this does. And oh, those boots! Mai, where can I get a pair of those? Or three?
Chris's Rating: 9
This reeks of funness, and is by far the best of our contest in picking the best character to dress up as by a person. Very good stuff.
Joel's Rating: 9
Points for Spunk. Bonus points for Golden Age S-shield. GONZO ROLLOVER POINTS BONANZA for Streaky!
FIRST RUNNER UP!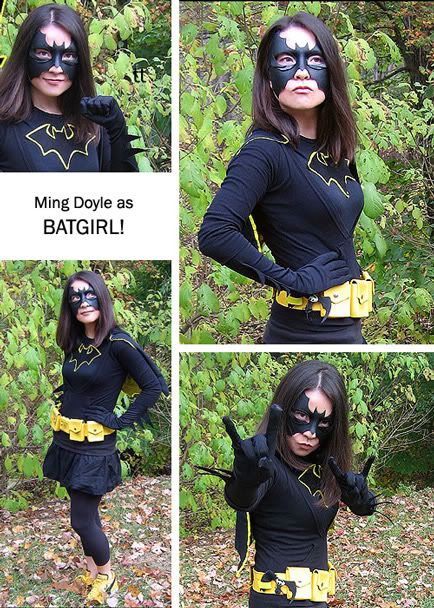 1st Runner Up Prize: Ming will receive and original drawing
of her Batgirl design by Mike Maihack!
Dean's Rating: 9
Rocking a Cassandra-inspired color scheme and symbol, Ming Doyle's Batgirl capably combines the beauty and badass elements required in solid female heroes. I must say, after falling in love with Ming's costume designs over the last few months, I'm incredibly pleased to see those skills translated into a physical costume. (I believe Ming the first P:R contributor to be featured in our regular drawing contests AND our annual costuming one!) I love the Bat-mask, and the Cassie-inspired chest symbol. The short cape makes for less cape-related hazards (see: The Incredibles), and the pouched utility belt is a classic. And of course, the color-matched kicks make this a serious contender.
Vito's Rating: 8
Ming went a long way to make this a complete outfit, going so far as to even have yellow and black sneaks. And you can never go wrong with the pouch belt.
Jessica's Rating: 9
Super cute! Very much a Misfit/Batgirl kind of thing, I think. It's adorable, superheroical, and even looks comfortable – I would totally wear this to deliver dark vengeance.
Rachel's Rating: 9
The cutes! The awesomes! I'm particularly fond of the elaborate, fitted mask, which is a great compromise between domino and full cowl. Also, I feel the need to point out that this Batgirl is metal. Batgirl should definitely throw up the horns. The only quibble I have is that awkward gap between leggings and sneakers, which disrupts the flow of the costume and makes an overall great get-up a notch less practical for fighting on rooftops.
Chris's Rating: 9
Very, VERY good here. The yellow sneakers really show she went the extra mile, and the batarang is sweet too.
Joel's Rating: 9.5
I'm not sure how much more we could ask from an entrant. This is a new design ready for adoption into the comics. Maybe tweak the skirt and leggings a bit. But come on, I'll give her the top prize just for the mask alone. Minor deduction for my jealousy of her drawing ability.
SECOND RUNNER UP!
2nd Runner Up Prize: John and Jennifer will receive and original drawing of
their Two-Face and Tyhoid Mary designs by Ben Hatke!
Dean's Rating: 8
John Hefner, an experienced veteran of Fights, Flights, and Tights, came to play! I am stunned by this wickedly debonair Two-Face. John's boldly chosen to forgo the half-split double face design nearly always used for Mr. Dent's alter ego, opting for a balanced, but less symmetrical approach. Likewise, T-F's costume is no longer double-sided, but simply clad in noir-ish mobstyle. I love the blood red color choice for the "bad" face (and accessories). This design makes me think of this Two-Face as a re-disfigured Harvey following (one of his many) reconstructive surgeries. Perhaps with the influence of a character like Typhoid Mary here, Harvey could choose evil more readily. Likewise, T-M's elegantly terrifying costume really brings the awesome. This is definitely an inspired pairing! The story ideas just keep on coming!
Vito's Rating: 9
I like the pairing. If only the DC/Marvel Crossovers had these two teaming up. That's a really high concept and I appreciate it. Jennifer's costume seems to be inspired by Alex Maleev, and so points awarded there. John's subtle touch of putting the shoulder holster on the "bad" side is really smart.
Jessica's Rating: 9
I'm trying not to let my weakness for pinstripes sway me too much, but these two are just too fabulously dapper and sinister for words.
Rachel's Rating: 7
I like that creating a team-up between (as far as I know) previously unpaired villains was actually an element of this design. Mary's thigh-high stockings and slit pants are a gorgeous touch, too. But shouldn't the holster actually be on the good side, so that the bad side would be drawing the gun? I'd also like to have seen at least a little subtle asymmetry in Two-Face's outfit.
Chris's Rating : 7
This is how Amalgam should have been.
Joel's Rating: 7
If these two ever kissed, Two-Face's henchmen would, like, "Boss, you got some penne vodka on your chin." Points for Mob Noir style, bonus points for crossover cleverness. Points taken away fro making me feel queasy.
HONORABLE MENTIONS
Dean's Rating: 7
Jared Axelrod's a veteran of Fights, Flights, and Tights, so I'm not surprised to see another strong entry from him. Cyclops is kind of an enigma to a lot of fans (and creators), a sort of reshapeable leader force that can be taken in a lot of different directions (see: Joss Whedon). I could totally see Scott showing this level of school spirit and I dig the simplified color scheme. Powers = Red, Costume = Red. Good call there, Jared! Also, great belt buckle! The simple silver "X" is so much stronger than the overly complicated/light-up/multi-colored versions. This costume may be a little light on concept, but it's definitely strong on accessories! (Additional note: I have no problem with Beard-clops.)
Vito's Rating: 6
I like the concept, and he went a long way to create an almost X-Men: First Class look, but I think he would have nailed it if he shaved.
Jessica's Rating: 7
I agree with Vito – awesome concept, too much hair. This is Scott we're talking about, after all. (But where can I get me a jacket like that?)
Rachel's Rating: 7
I like the varsity jacket look, which I think fits Scott particularly well. Even when he has more hair, Scott should be clean-shaven, but is it fair to expect Jared to shave off his beard to impress us? I'd be more concerned with the fact that we're only seeing this Cyclops from above-the-waist up – which begs the question Is he wearing pants?

Chris's Rating: 7
Great costuming here, but I too have issue with the bearded Cyclops. If he'd have shaved, I would have given it a 8 or 9.
Joel's Rating: 7
Nice jacket. Really, really nice jacket. I agree that I'd like to see what's going on with the rest of the outfit. Points for the take on the character. Bonus points for actually shooting lasers out of his eyes.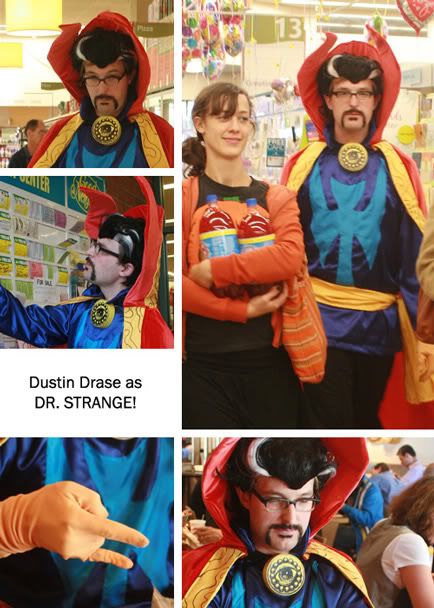 Dean's Rating: 5
Dustin's awesome Doc Strange gets a slightly lower rating from me, due to it's largely being a straight up Dr. Strange costume. It is however, totally flipping awesome, and I couldn't possibly exclude it. Great, great fun. The black and white hair is a nice touch, too. Steve Ditko would be proud.
Vito's Rating: 8
Honestly, it's my favorite one. You have to COMMIT when you shave a handlebar moustache! But just like Cyclops above, you gotta take those glasses off, just for the picture. But it's great. And Dustin is so comfortable in this get up…look at him! I might even bump it to a 9.
Jessica's Rating: 7
I'm not very familiar with the character, but the costume is fab. You see this guy on the street, you know he's got some magic mojo going on. I love the wig.
Rachel's Rating: 5
This doesn't really strike me as a redesign – I'm not seeing much beyond small tweaks that distinguish it from the good doctor's original costume. The headrest on the cape is a bit iffy, too. But points for both detail and chutzpah!
Chris's Rating: 8
This man has some cahones. To me this is Dr. Strange as a would-be magician — I love the schmaltzy Eye of Agamotto.
Joel's Rating: 7
Can't say that I mind the glasses. If any super hero could pull 'em off, it's the Doc, and these pretty much look like the type of frames he'd pick out. Points for bringing the love, bonus points for growing the 'stache. Points taken away for faithfulness to canon and for not helping Clea with her 4 liters of punch.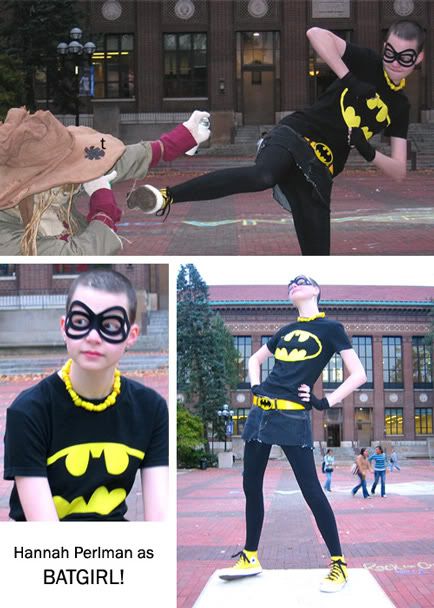 Dean's Rating: 6
It's funny how Hannah's Batgirl using a lot of the same ideas as Ming's does! I wonder if there's some underlying Batgirl ideas out there among the fans that haven't made it into the comics yet. Anyway, cool costume, Hannah! (I have that same belt buckle!)
Vito's Rating: 7
She reminds me of the Draw Batgirl meme or even one of Jemma Salume's designs. I really like the street tough vibe.
Jessica's Rating: 7
Sassy, fun, and I love the sneakers. She reminds me of the Batgirl meme, too, or even a Butterfly character – I think it's the mask and the cuteness. I want to fight crime with her and then give her cookies.
Rachel's Rating: 7
This is adorable – for me, this is absolutely the Misfit Batgirl, and I am a dead sucker for those converse high-tops. I don't like the mask, though–it doesn't fit the rest of the costume's feel or look (although, yeah, it's perfectly Butterfly). Bonus point for the fact that the branded elements of this costume are put together from fan-gear, which is a touch I really love. And while it may not exactly be a design element, I like the look of the buzzed hair with this costume. It's so damn practical!
Chris's Rating: 7
Street batgirl — not the Frank Miller kind, but maybe the Brian Wood kind. I am thrilled that almost all of our entrants had didn't goof off on the shoes — everyone has great shoe sense.
Joel's Rating: 8
A fun design that I think would work pretty well in a street level comic. The mask definitely had me thinking "Butterfly." Combined with a the chunky necklace, we know that this is the kind of Batgirl whose fists go "POW!" when she punches someone. Points for kicking Scarecrow in the face, bonus points for the shaved head, which I've always thought was a great look. Is this the same school as is behind Supergirl? Those two should definitely have a team-up.
Dean: Good eye, Joel! Yeah, it turns out Mai and Hannah were a two-girl World's Finest team this Halloween! Check out their awesome team-up photo here!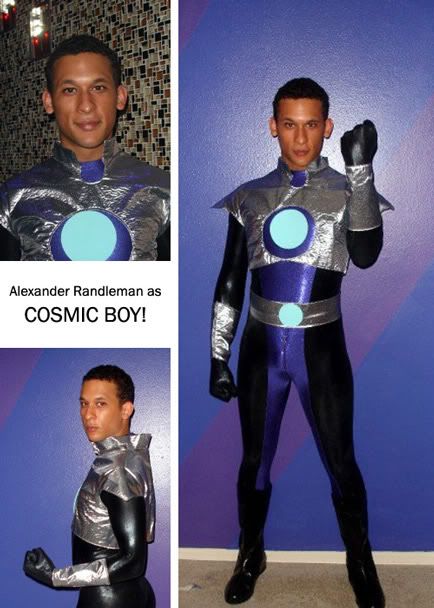 Dean's Rating: 7
This is a fun costume! A little Power-Rangerish (maybe that's just because my mom used to make Power Ranger costumes for the kids in our neighborhood), but pretty cool nonetheless. I definitely dig the classic sci-fi vibe of the sparkley spandex and the silver metallic fabric accessories.
Chris's Rating: 7
Legion of Super-heroes is one of the few niches of superhero comics I've failed to ever grasp, so I had to dig out some reference to see how this fits with the character. Looking at it now — I like it. I'm just going on the visual cues from the comics, but Alexander has got a really professional looking suit that stands out.
Vito's Rating: 6
It's really close to being stellar, but as crazy as it sounds, I wish there was some pink in this costume. Cos stands out for a reason…he's a founder, and that pink and black costume really says Cosmic Boy to me. But points for being creative in spite of a lack of pink. Hey, I know…it's a hard color to pull off!
Joel's Rating: 8
Very slickly made, and a pretty darned good redesign for the character, to boot. I like that the light blue circles look completely flat, as if they were emitting light. Points for the cut-out circle over the chest-circle, bonus points or having the physique to wear this outfit.
Jessica's Rating: 7
It's definitely a break with Legion costuming tradition, but that stripe of color down the middle keeps it from being too much of a break, and it's definitely futuristic. And hey, Cos has been wearing blue for a while now (and purple before that). The silver elements look a little too handmade for my tastes – such is the curse of not actually being a comic book character – but the design itself is very sleek and dynamic.
Rachel's Rating: 8
Like Chris, I've never followed Legion of Super-Heroes, so my entire knowledge of Cosmic Boy comes from a quick google search. Context notwithstanding, I really dig this design: it's got a sleek retro-futuristic look that I think would look particularly good in flat animation.
BEST OF THE REST!
Additional Notes: The three original art drawings will be featured here at P:R before they're sent out, so check back over the next few weeks for those. Thanks to everyone who entered. We were overwhelmed by the great turnout and fun entries! Let's do this again next year!