Editor's Note: These first two Iron Man redesigns were sent in to us after the deadline for Iron Man: Invincible Upgrade, but while we they weren't entered in the actual contest, we wanted to spotlight them here. Also, check out the Honorable Mentions! – D.T.

Charles Rouse-Rodriguez (Larger Version)
Dean: Gosh there's a lot of good going on here. The inset circle on the torso and the raised neck guard are the parts that work the best for me. I dig the simplified faceplate, but I think I'd rather have seen a more personable face there.

Chris: If only Charles would have turned this in before the deadline. Like Dean, I enjoy the indented circle on the torso as well as the neckguard, in addition to the backpiece. The faceplate reminds me of Eric Canete's work on the recent Iron Man: Enter The Mandarin miniseries.

Vito: It's funny how everyone, when drawing IM, draws him in segments and plates. I wonder what the thinking is behind that. Or maybe those aren't plates…maybe they're designs on the metal. Just makes me wonder why all you artists think alike in that respect. My favorite element on Charles' submission is the collar…how it goes up around his neck. Looks like a football player's neckroll, which makes him a "bigger" character. It makes sense to me because you have to believe there's a guy under all that metal. I would have given this a solid 8 had it come in on time.
Rachel: I can't get past the fact that he looks like he's wearing mechanical panties over his costume. Otherwise, freakin' awesome.
Dean: Haha, this thing is CRAZY. Jon described it to me as being a womb-like containment structure that Tony lives in, so the shape and appendages don't necessarily have to reflect a human form. I could see this as a future Tony Stark, protecting his ailing body, perhaps from a harsh environment. The only thing I'd deduct points for is the color scheme. I think Tony'd go for a red tunic over a blue one, man. Power colors.

Chris: This is less a redesign and more a re-imagination. I can't quite get my brain around it.

Vito: I'm with Chris. I can't quite put a finger on this one. It's certainly a lot of fun, but wow, how weird!
Rachel: Add a third to that list! I love the design, but I can't wrap my head around it as Iron Man.
HONORABLE MENTIONS!

Art Grafunkel

Christian Pearce
More after the jump! -Dean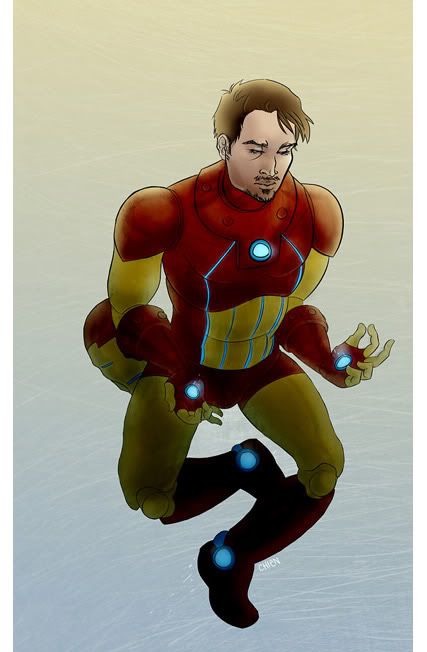 Colleen Kao


Jorge Daniel Romero Castillo

Mark Engblom

Meghan Murphy

Paul Milligan

Vu Nguyen